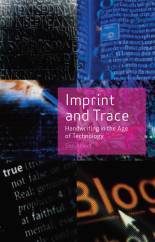 Today, writing by hand seems a nearly archaic process. Nearly all of our written communication is digital—our letters are via email or text message, our manuscripts are composed using word processors, our journals are blogs, and we sign checks to pay bills with the push of a button. Sonja Neef believes that what we have lost in our modern technological conversation is the ductus—the physical and material act of handwriting.
In Imprint and Trace Neef argues, however, that handwriting throughout its history has always been threatened with erasure. It exists in a dual state: able to be standardized, repeated, copied—much like an imprint—and yet persistently singular, original, and authentic as a trace or line. Throughout its history, from the first prehistoric handprint, through the innovations of stylus, quill, and printing press, handwriting has revealed an interweaving, ever-changing relationship between imprint and trace. Even today, in the age of the digital revolution, the trace of handwriting is still an integral part of communication, whether etched, photographed, pixelated, or scanned.
Imprint and Trace presents an essential re-evaluation of the relationships between handwriting and technology, and between the various imprints and traces that define communication.